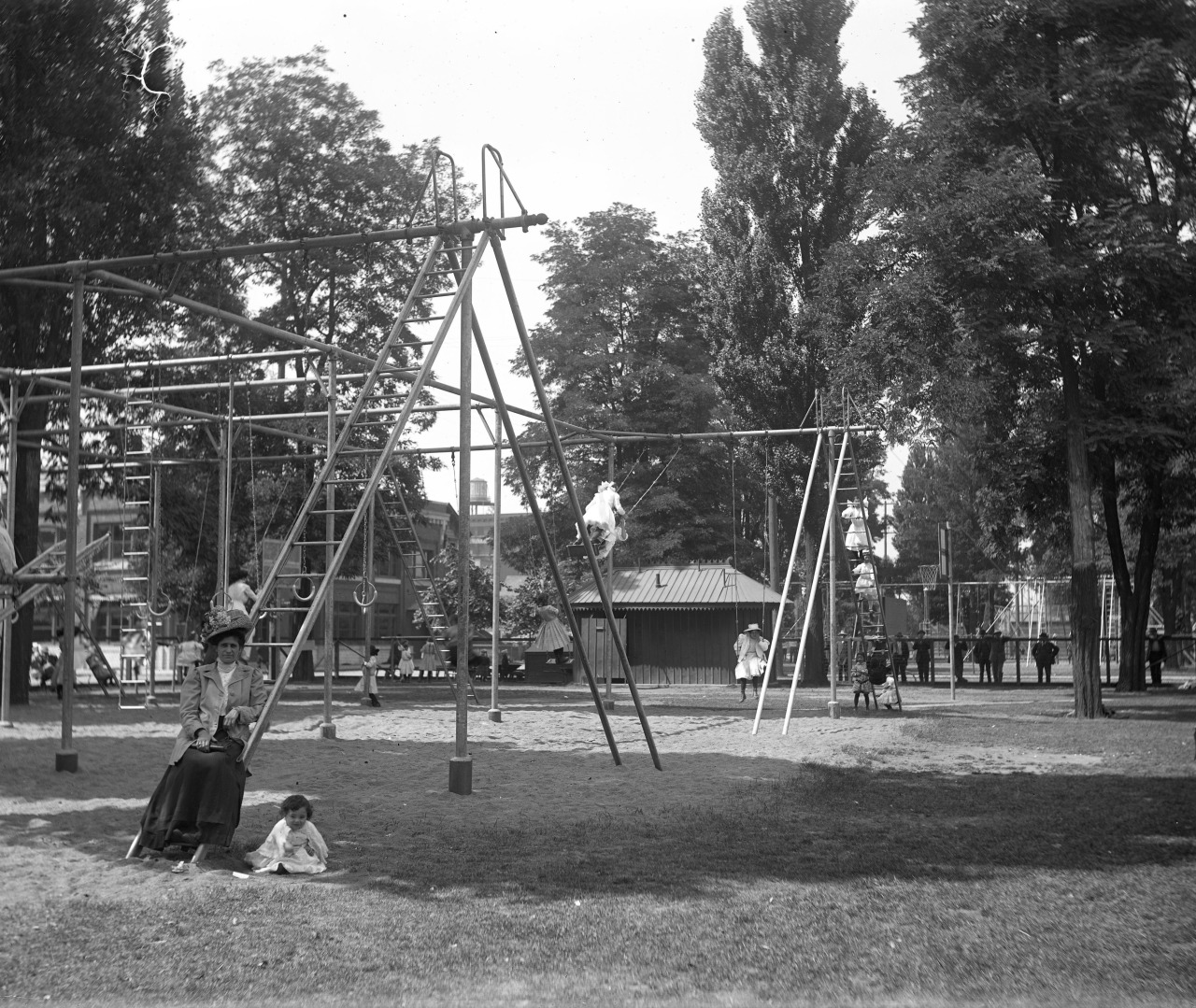 Captain John H. Couch deeded the five blocks to the city in 1865, and they were officially platted for a municipal park in 1869. An ordinance was passed in 1904, setting aside one park block for women and children. In 1906, another block was added for a children's playground. The playground was divided into a boy's playground and a small child and girl's playground.
In 2002, Chinese foundry owner Huo Baozhu donated Da Tung and Xi'an Bao Bao, full-size bronze reproductions of Shang dynasty elephant statues, to Portland. The city placed them on the North Park Blocks where children could interact with them. The young elephant stands "peacefully on his father's back", symbolizing "safe and prosperous offspring". The Regional Arts & Culture Council, which administers the sculpture, described it as: "Playful. Blends into the environment with nods to the diversity in generations, activities and cultures." The piece is part of the City of Portland and Multnomah County Public Art Collection courtesy of the Regional Arts &
"Dog Bowl" was designed by dog photographer William Wegman in 2001 and installed in the North Park Blocks between Davis and Everett streets in 2002. Wegman had been "cultivated" and privately funded by the Pearl Arts Foundation to create a work for Portland. The installation features a cast-bronze dog bowl set on an 8-foot (2.4 m) x 10-foot (3.0 m) checkerboard that is reminiscent of a linoleum kitchen floor. Most of the squares are black and white granite tiles, but four are artificial turf. The bowl was designed to be reminiscent of the Benson Bubbler drinking fountains installed throughout the city and is supplied by an underground water source.[1] According to the Regional Arts & Culture Council, which administers the sculpture, Wegman said he created the sculpture "for dogs, not people", and prefers not to think of the bowl as public art. Legman donated some of his earnings from the installation to the Oregon Humane Society, Foster Pets and the Delta Society.
In recent years, the North Park Blocks have experienced a renaissance. Warehouse condominiums and creative commercial buildings have replaced vacant or underutilized buildings. The crown jewel is the new campus for the Pacific Northwest College of Art (PNCA), Oregon's flagship school of art and design since 1909.
At the north end of the Park Blocks a parking lot currently occupies a block that will be redesigned as an extension of the North Park Blocks. Lee Kelly's 4,000-pound, 23-foot-long sculpture entitled "Memory '99" kicks off the re-positioning of this land into a future North Park Blocks park, the first addition in 143 years.