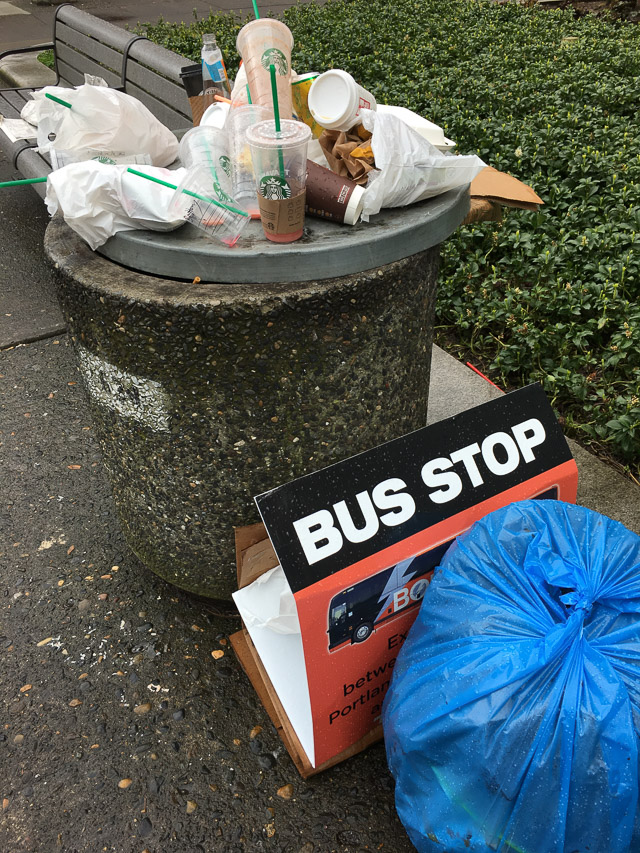 Bolt Bus, a subsidiary of Greyhound likes to market itself as the hip, low-cost future of bus travel. Earlier this year, Bolt moved into the North Park Block without warning. Rather than use their nearby Greyhound bus station (at NW 6th and Hoyt) Bolt turned the corner of NW Everett and 8th into a bus terminal without concern for it's impact on the the park or neighborhood. We first  in February. See Terminal Chaos Forces Bolt Bus To Street Corner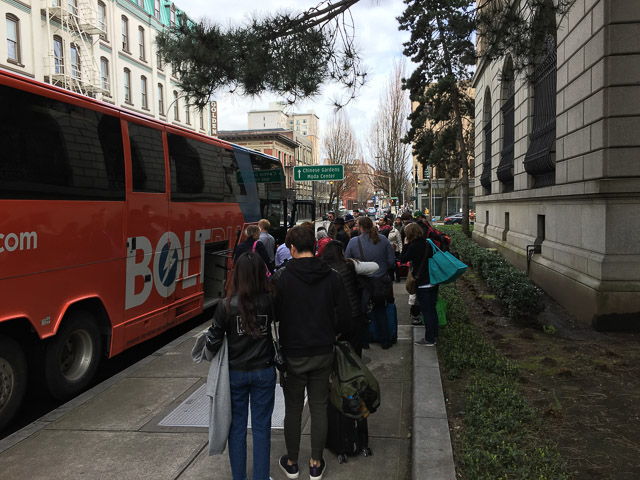 To update the situation, here's a reprint of a letter from Pearl District Neighborhood Association. 822KB pdf
---
April 19, 2016
Re: Bolt Bus
Dear Mayor Hales and Commissioner Novick,
The Pearl District Neighborhood Association (PDNA) brings forward the following Livability & Safety concerns regarding the Bolt Bus stop/depot that moved from SW Salmon St. to NW Everett St. at 8th Avenue; without any prior communication to the neighborhood. The Bolt Bus move to this block has had an immediate and negative impact on those living and working here.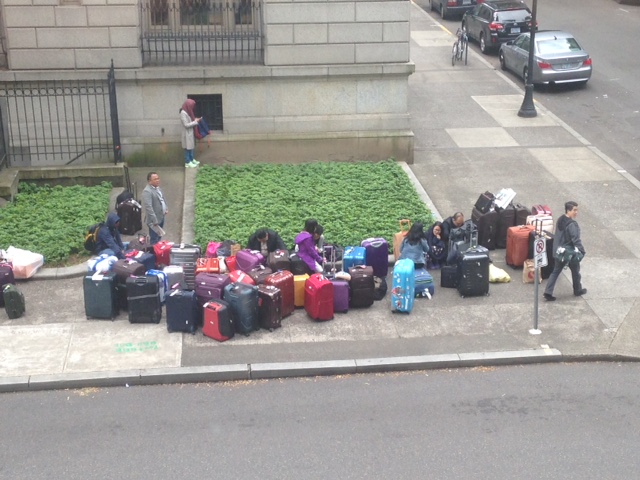 We do not understand why Bolt would use a city street for a depot as there are no services commonly associated with a commuter bus terminal. Bolt Bus provides a coach service to destinations as far as Vancouver BC. Their customers travel with luggage – which necessitates being dropped off or picked up by car or taxi. Buses queue all day long, starting with the 6:30 AM pickup – which results in increased traffic starting sometime after 6AM and throughout the day. The Bolt Bus's last drop off is scheduled for 10PM, although with delays their buses do sometime arrive much later. The increase in traffic is undeniable. The noise from the idling cars, the greetings and farewells, the honking of frustrated drivers who cannot proceed on Everett or surrounding streets due to double parking is ever present.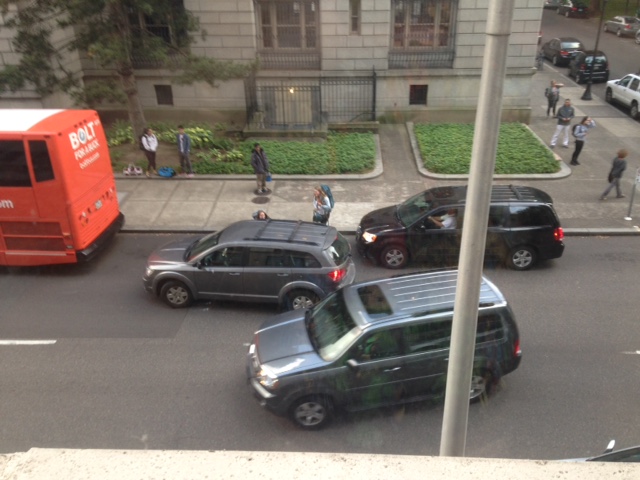 Livability Issues:
Noise from the buses; including idling and wheelchair ramp engagement.
Pollution from the buses.
Littering from Bolt Bus customers due to the fact there are no trash receptacles
Cigarette butts thrown on the sidewalk and ground cover of the WeWork (Custom House) building as there is no butt disposal container.
Illegal congregation of Bolt Bus customers under the private property doorway of the previous Remedy Wine Bar (also an egress into/out of the North Park Lofts building for residents); as Bolt Bus customers attempt to get out of the rain, wind, cold, heat, etc.
For residents of the North Park Blocks building; especially those on the corner of 8th and Everett, there is a materially negative impact on the livability of their homes; and most likely the property values as well. Residents are unable to open their windows due to the noise and exhaust.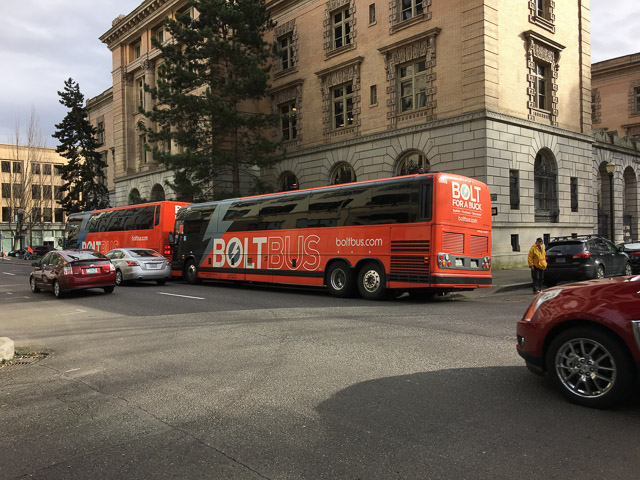 Safety Issues:
Traffic congestion as the stop is in a lane of traffic on an already busy street (Everett).
Illegal parking of cars picking up and dropping off Bolt Bus customers.
Concerns for the safety of Bolt Bus customers and drivers at the North Park Lofts building garage entrance/exit. Bolt Bus customers congregate under the roof of the garage door to get out of the rain, wind, cold, heat, etc. This is particularly concerning as this exit is a downhill slope from the parking garage which makes visibility poor; a risk for drivers and Bolt Bus customers.
Cars are parked illegally, backing up a lane of traffic (which also has two pedestrian crossings) on Everett between 8th and Park; as they drop off or pick up Bolt Bus customers.
Buses stack up down Everett as Bolt uses Cascade and Northwest Point and other bus company's buses when demand exceeds Bolt Bus capacity.
The right lane of traffic on Everett is impassable when Bolt Buses drop off or pick up passengers; creating traffic back-ups that extend into the pedestrian walkways.
There is no presence of traffic officers ticketing illegal parking in a lane of traffic on Everett nor are there parking officers to ticket drivers who are not paying for parking as they are dropping off/picking up Bolt Bus customers.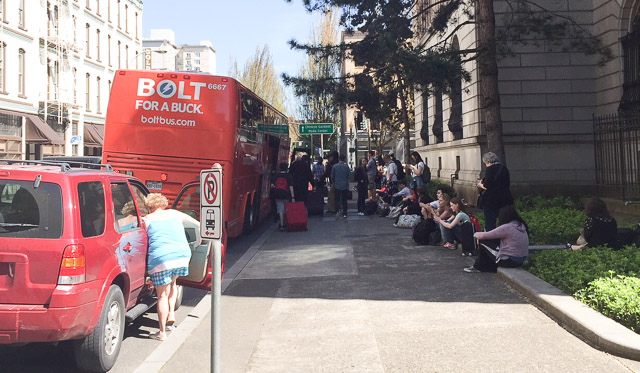 This bus depot should be relocated to Union Station which has a facility with seating, bathrooms, concessions, garbage receptacles, etc. or to a parking lot where at least the traffic concerns would be addressed or use the bus depot on NW 6th and Glisan.
Please advise as to next steps to work towards a resolution in this matter.
Sincerely,
Patricia Gardner
President, Pearl District Neighborhood Association