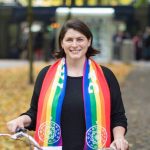 This post is the second in a series based on our interview with Felicia Williams, City Council Candidate for Position 3. More on Felicia here.
Q: Many Portlanders are concerned about crime and livability — they're tired of  theft, drug dealing, and garbage and litter— how do you address those issues?
Felicia:  – My first priority is increasing police staffing levels. Have you ever called 911? Did you get a quick response? Right now the typical wait times range from 3 minutes up to 15 minutes, and police response times can range anywhere from 9 minutes to over an hour. The current police staffing shortages put all of us at risk.
You can find data on police response times here.  And sort it by neighborhood
Q: What would you say to those that oppose increasing police staffing?
Felicia: The police staffing shortages also mean that we no longer have community policing foot patrols, or enough officers working in the Behavioral Health Units and Enhanced Crisis Intervention Teams to respond to people experiencing mental health crises.
Our emergency dispatch and police staffing numbers have reached critical levels and it is affecting how quickly people receive emergency services when they need it most. No one wants to wait on hold when they call 911 or have an exhausted cop at the end of a sixty-hour work week showing up in a moment of crisis.
Q: Where would the staffing funds come from? Would you take it from Parks & Rec?
Felicia: Portland Parks & Rec has multiple sources of independent funding, including that recent bond measure. In looking at many years of their budget, it's clear that the biggest challenge with Parks is that they make cuts every year, but when they get a windfall, rather than reinstating previous cuts they choose to start new programs. By contrast, the Police and BOEC are general fund bureaus and therefore every penny of their funding has to come from the general fund. Focusing on core services and funding them adequately is the basic responsibility of the City Council.