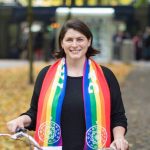 This post is the first in a series based on our interview with Felicia Willams, City Council Candidate for Position 3. More on Felicia here.
Q: We're all a little freaked out by thoughts of "The Big One." Tell us more about your campaign plank on "Emergency Preparedness."
Felicia: We've all read the New Yorker article about the "Big One," and have witnessed what happened with failed federal relief in Puerto Rico. When a natural disaster strikes Portland, we can't necessarily rely on the federal government for a rapid and adequate response, so we need to get serious about preparing our city.
Q: Agreed … and we secretly suspect Trump would be glad to leave the Left Coast hanging. (joke) Seriously, what would you do to get us better prepared to survive an earthquake?
Felicia: The best way to survive an earthquake is to prepare for it.
Q: That sounds good, but do you have any specifics?
Felicia: Yes, I do. Here's my five point plan that I will support as a Commissioner:
Install an earthquake early warning system attached to both civil defense sirens and personal smart devices. This would give people up to two minutes to get to safety.
Train additional Neighborhood Emergency Team Members (NETs) throughout our City and making sure we have NET teams in every single Portland neighborhood and high density apartment building.
Develop Emergency Operations Plans for all of our K-12 schools.
Make sure every family has Personal Action Plan.
Test the early warning system and Personal Actions Plans annually.
Q: We've heard you did disaster work in the Air Force?
Felicia:  Yes, my concerns for emergency preparedness grow out of my work in Command and Control while serving in the U.S. Air Force.  I know what it's like to directly coordinate high level responses to fires, gas leaks, plane crashes, tornadoes, and mass casualty events.  When a disaster strikes, it will be critical to have calm, experienced leadership guiding our response, and this is exactly what I will provide Portland.
Q: Sounds like you've been in challenging situations before.
Felicia: Each is unique, but we can take action so Portlanders can work together to get through a disaster. We can utilize the public-private partnerships that already exist throughout Portland to create neighborhood and community safety plans so we can survive a catastrophic emergency.