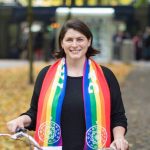 This post is the third in a series based on our interview with Felicia Williams, City Council Candidate for Position 3. More on Felicia here.
Q: What steps will you take for low income families to get affordable housing?
Felicia: My neighborhood was hit hard by the condo conversions.  We lost approximately 500 affordable apartments to condo conversions.  We still haven't gotten them back.
One of our neighborhood board members unexpectedly lost his job at Portland State at the same time the rents were skyrocketing.  I watched helplessly as the stress caused by housing insecurity took a toll on his physical health. He put his name on the list to get into the Rose Schnitzer Tower (HUD housing) but the waiting list at that time was five years long. Now the waiting list is closed.
Q: What would you do to prevent homelessness and ensure we have stable, healthy and adequate shelter space?
Felicia: Homelessness is a public health issue, but currently we only treat the shelter element and don't fund the medical, addiction, and mental health issues that trap people in a cycle of homelessness. I'm opposed to the reliance on shelter when we should be prioritizing funding housing.
We need to balance our compassion with common sense.
Low barrier shelters are scary and that's why people don't want to go to them –  who wants to live in a six bunk room with a crack addict and a meth addict. I have a friend with cerebral palsy and when faced with going to a shelter, he checked himself into a psych ward rather than going to a shelter.
We need to prioritize housing over shelters – breaking the cycle of homelessness will require us to treat the underlying conditions that cause homelessness. Bottom line: Prioritize housing and public health.
Q: How can we create more affordable housing?
Felicia: Housing is a basic human need. We can create more affordable housing by utilizing a combination of 99-year ground leases, land swaps, and by developing currently underutilized city-owned land. Removing the cost of land will spur development and put the property back on the tax rolls, allowing the city to direct this revenue into a range of housing options at affordable prices. If there is any chance of creating more affordable housing in Portland, we need to start making City owned property available for housing, while at the same time retaining ownership of the land as a long-term public asset.
Q: What's your position on Inclusionary Zoning?
Felicia: When the Community Alliance of Tenants contacted us to see if we would support the effort to overturn the Inclusionary Zoning ban at the state legislature, we agreed to consider it. Our neighborhood is 87% renter and we understood that any new buildings built under an IZ program would likely be built in our neighborhood; we could get our 500 affordable units back.  At the time, our board had a developer, several public housing residents, renters, and a couple of homeowners on it. In order to get a unanimous vote on the IZ letter, we agreed not to fight height in the Central City West Quadrant Plan. We understood that if Inclusionary Zoning had any chance of working, the buildings would need to go taller in order to pencil out.  For us, more affordable housing was the most important greater good.
Q: What can City Council do better to address the housing crisis?
Felicia: I want Inclusionary zoning to work, but if it's going to happen, we need City Council to stop destabilizing the development market with ad hoc decisions, we need a formal housing strategy, and we need to make sure we are generating enough revenue to develop more subsidized housing in the 0 to 75% Median Family Income range.