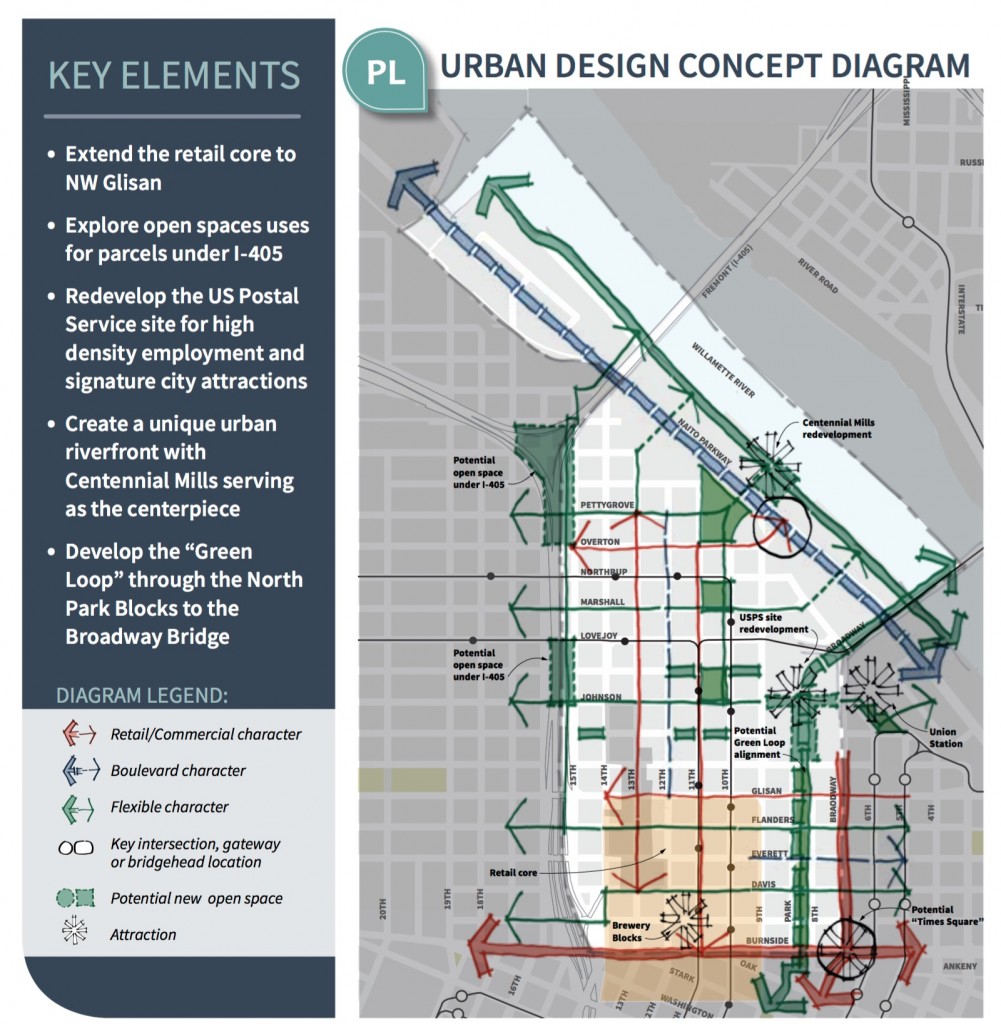 Portland's Central City 2035 Documents (CC2035) are now online.  Between now and 2035, 30 percent of Portland's population growth is expected to occur in the Central City – on 3 percent of the city's land. That's an additional 37,000 new households and 51,000 new jobs.
We're pleased to see that they're considering what to do with spaces under 405 and Broadway Bridge – which have been largely abandoned and turned into defacto homeless camps.
One of CC2035 "Six Big Ideas" calls for a Green Loop right through the North Park Blocks that would tie into the Broadway Bridge via a redeveloped downtown USPS site
The Green Loop is a concept for a pedestrian and bicycle path that will invite residents, employees and visitors to experience Portland's urban core in an entirely new way. Part of a larger effort to repurpose public rights-of-way for better community use, the six-mile path will offer people a chance to take a break from work — to walk, run or ride among trees in beautiful parks as well as enjoy restaurants and shops without driving a car or riding a bus.
This urban promenade will promote healthier lifestyles and connect people to amenities and each other. It will attract people of all ages and abilities from throughout the region to enjoy safe, green and active recreation.
If you have questions and would like to chat with a live person about your property and how the new plan might affect you, feel free to contact the Central City Team at 503-823-4286 or cc2035@portlandoregon.gov.
Look for events and outreach opportunities on the project calendar to attend a live open house or talk with a CC2035 staff member in person.