Commissioner Amanda Fritz has already stated "Every neighborhood in Portland will be asked to find a spot to put a homeless camp." She has yet to explain where the city plans on locating these camps, and has not expressed any concerns on impact camps will have on surrounding neighborhoods.
Fritz's and city council's willingness to support these improvised camps ignores the lessons learned when nearby Vancouver allowed public camping without adequate planning and support. See Vancouver Allows Public Camping – Here's What Happened
Here's a Dec 1 report from KGW Hazelnut Grove Homeless Camp Bursting at the Seams:
PORTLAND, Ore. — When we first checked out the Hazelnut Grove camp last month, it was a small pack of pup tents with an intended cap of 25 people.
A few weeks later, neighbors in the nearby Overlook Neighborhood Association raised concerns.
"What we're seeing is not typical state of emergency response. It's ignoring land use laws," said one man last month. Fast-forward to the end of November, residents said their once small, quiet camp is bursting at the seams.
"From day, to day, to day, it's just crazy the speed at which it's growing," said Joe Bennie, who lives in Hazelnut Grove. Residents of the camp say over the last month, homeless advocates, churches, even police have started pointing people this way.
The word of mouth has led to massive overcrowding and the birth of a second camp, right next door. Residents dubbed it "Forgotten Realms." The area is now home to 70 people and counting.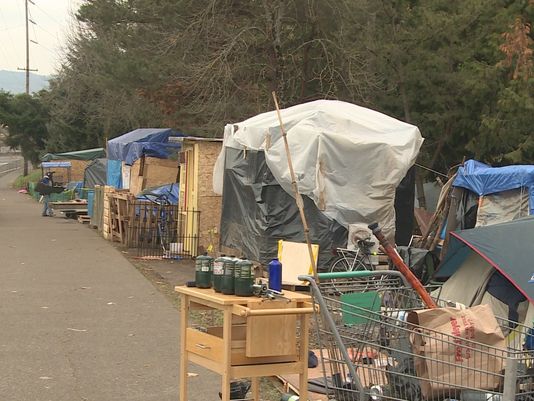 Rochelle Irving said she was referred to Hazelnut Grove two weeks ago by a Portland police officer. He told her it would be safe and clean.
"I thought it was kind of cool because they had information and a place for us to go and stuff, but when we came down here. I was scared because there wasn't any room for us," she said. "I mean, it was disheartening."
A spokesman for the Portland Police Bureau said it's not a department policy to refer homeless people anywhere. Founders of the camp say they appreciate the attempts to help Portland's homeless find a safe place to stay, but they're scared too. They worry that big crowds will lead to big problems, like fights and drug use.
"It's winter time. People are going to get sick. How many people do you want to get sick?" said Bennie. "That's not what anybody wants."
But their biggest fear is that the city will see the potential for such problems, as a reason to shut the site down.
A rep for Portland Mayor Charlie Hales' office said the city has no plans to shut the site down, adding officials want to work with residents.
He says they're in the process of selecting more sites for similar camps. Of their potential choices, some are owned by the city. Others would have to be purchased.
He said they're hoping to select a site soon, but couldn't say when that would be.