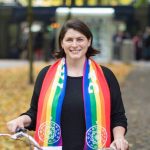 This post is the fourth in a series based on our interview with Felicia Williams, City Council Candidate for Position 3. More on Felicia here.
Q: What's your experience with Portland's neighborhood politics?
Felicia:  I joined the Downtown Neighborhood Association (DNA) Board of Directors in 2010, and have served as president since 2011. I also represent the DNA on the Neighbors West-Northwest (NWNW) Coalition Board of Directors and have spent the last two years as the NWNW Board president.
After being actively engaged with Portland City government for the last decade, I understand how we can improve our government
Q: If elected, what will you do to include neighborhood associations in the initial conversations about plans that affect their neighborhood?
Felicia: In 2011, my first term as DNA president, we asked the City for a loo in our park because we had problems with people peeing everywhere.  However, we also understood that a loo was going to be a shoot-up site. With that in mind, we walked around with Water Bureau and Parks Bureau reps suggesting sites.  There was one block that we specifically asked them to NOT use because it was in front of a daycare. Guess where they put the loo? Now the daycare staff have to pick up needles before they allow the toddlers to play in the park.
Neighborhoods have the local knowledge necessary to know if an idea will work and they are designed to be partners with city bureaus. As a neighborhood volunteer, I will absolutely continue listening to neighborhood volunteers and their input will inform my decision making.
Q: Please discuss the balance of City Council representation for Southeast and North Portland.  Would you support changing the City's charter to allow for district-based representation?
Felicia: We absolutely need to change our form of government and that requires a City Charter change.  The commission form of government clearly DOES NOT WORK. I think we should have geographic districts based on population and a mayor elected by the entire City.  No more commissioners running bureaus, no more dysfunctional government.
Q:  When the Yellow Line was constructed in North Portland, many people of color and impoverished renters, homeowners and business owners were displaced. What is your plan to not repeat the same mistakes in the SW Corridor?
Felicia: The Yellow Line gentrification was not unique to Portland, but we have learned from the mistakes we made.  -I support the SW Corridor Equitable Housing Strategy.  Portland is being proactive with the zoning with the Better Housing by Design project, which will change the zoning along the SW Corridor to accommodate higher density residential areas, which preempts the displacement we saw with the Yellow Line.
Q: What would you do to deliver on the long ignored promises of pavement and sidewalks for the miles of unimproved streets in Southeast and East Portland?
Felicia: This one is easy. The City has already collected revenue that can be used for adding sidewalks and paving unpaved streets: System Development Charges (SDCs).  All we have to do is take $4 million of SDCs from the Portland Bureau of Transportation and $4 million of SDCs from the Bureau of Environmental Services (the sewer bureau) and within two years all of the sidewalks and paving would be finished.  That's all it takes: $16 million, two years, and the political will to do it.
Q: Any Portland stories from the campaign?
Felicia: I had an interesting exchange of emails with a Portland voter who lives in Clackamas County.
He wrote me: "Dear Felicia, I rec'd my voter's pamphlet yesterday. I note three candidates with messages for Portland City Commissioner Position 3. Yours is not included. Was that your decision or an error in the pamphlet?"
I replied:   "Thank you for contacting me regarding the Voters Pamphlet. Our campaign looked carefully at the costs of of being in the Clackamas County and Washington County Voters Pamphlets ($600) and concluded that is was cheaper and likely more effective to go to each voter in those areas of Portland and personally hand deliver a high quality Voters Pamphlet card  than it would be to pay to be included in the Voters Pamphlet. Not only is this fiscally responsible, but it also comes with the added benefit of being able to meet voters where they are so l can learn more about the challenges of living in the odd twilight zone areas of Portland. For context, there are approximately 160 households in Clackamas County that are Portland voters and 274 households in Washington County. I hope to meet you this weekend!"
He responded, "Thx for your reply. Your assessment makes sense. And is, perhaps, revealing re: your opponents. I won't be home Saturday. Ducks spring game in Eugene. Sunday we have an event in the AM at Oaks Park …. Stop by and I'll buy you a registration and a Tee if you want. Big crowd of voters you could meet. Text me and I will let you know where to meet me."