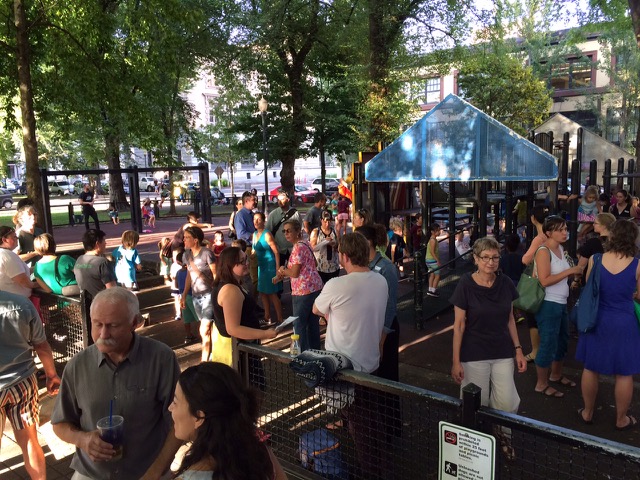 The folks at the Emerson School have extended this invite for the neighborhood to join them tonight Thurs Aug 27th
"I wanted to put out the information that The Emerson School is having our Back To School Picnic tonight, on the playground block, with ~100 families and children coming to play and take over the block for an hour or so. It begins at 6pm.
I had to send a notice to all our families to please bring chairs or plan on standing – the practice of laying out a blanket and eating picnic style on the ground was solidly discouraged by one of the park rangers, and I agree wholeheartedly—it's just gross out there right now. Any of our neighbors are welcome to join us and just be part of a "take back the block" event for the hour (though you must have a tolerance for children running around)! I will be scanning the ground and playground for needles or any other safety hazards beginning at 5pm, if anyone wants to be available to help with that : ) —I'll also have a name tag if anyone just wants to come and introduce themselves so we can make connections.
If you can help with attendance, it would be greatly appreciated!!!
They also wanted to let people know about their school schedule and daily use of the Park Blocks, in case that helps with any of our communications to the city. Their first day of school is Tuesday, Sept. 1. They have Daily P.E. in the park blocks from 10-10:30 EVERY MORNING – 150 students pour out into the park blocks for various large motor movement activities. They usually use the playground as well as grassy areas in a number of the blocks, starting with the "elephant block" and ending with the basket ball courts.
They intend to go out unless it's really raining HARD. Their teachers walk the grass as needed to scoop dog poop each morning, and put cones around human (or questionable) waste. Then they use the playground for recess every day from 11:45-1:15, and then their After School program uses the playground from 3:15-4:15 when weather permits.