Portland Parks Commissioner Amanda Fritz startled us in this KGW interview when she stated that "Every neighborhood in Portland will be asked to find a spot to put a homeless camp."
Apparently she hasn't noticed the utter failure of the homeless camp experiment just across the river in Vancouver. See Vancouver Allows Public Camping – Here's What Happened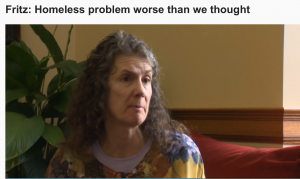 In a recent KGW interview  Amanda Fritz suggested that the state of emergency is beyond the city's control. Fritz went on to say that all of Portland's neighborhoods should bear the burden and make space for homeless camps.
Fritz doesn't seem to care that our neighborhoods, parks and public spaces are already overrun by homeless campers. Residents complain about the garbage, used hypodermic needles, drunkenness, theft and fighting.
It appears that Commissioner Fritz  has abandoned any effort solve the homeless problem in an effective, humane and equitable way. Instead she want the neighborhoods to make room for campers. We thought that during a state of emergency government officials worked to restore balance and order – not make things worse.
---
Commissioner Fritz is holding a Town Hall on Monday, Nov 30, 2015. Come and tell her where you would like to locate your neighborhood's encampment. 
Topics will include:
• Right to Dream Too (R2DToo) potential relocation
• City of Portland Budget, with particular focus on priorities in Portland Parks & Recreation
• Parks Workers pay and working conditions
• Tree Code (Title 11)
---
Time: 7:00 to 8:30 PM (Note: We will start and end promptly. You are welcome to attend for all or part of the forum)
Location: PCC SE Campus, 2305 SE 82nd Ave. Portland, OR 97216. Community Hall Annex (COMX).
Spanish language translation will be available.
Light refreshments will be provided. The closest parking is in Lot F on 79th Ave. TriMet operates bus 4 and 72 near the SE Campus.
Please contact Jasmine Wadsworth or send questions
503-823-3008 or email .
To help ensure equal access to City programs, services and activities, the City of Portland will reasonably modify policies/procedures and provide auxiliary aids/services to persons with disabilities. Call 503-823-2036, TTY 503-823-6868 with such requests or visit this site.  Requests must be made by Friday, November 27, 2105.