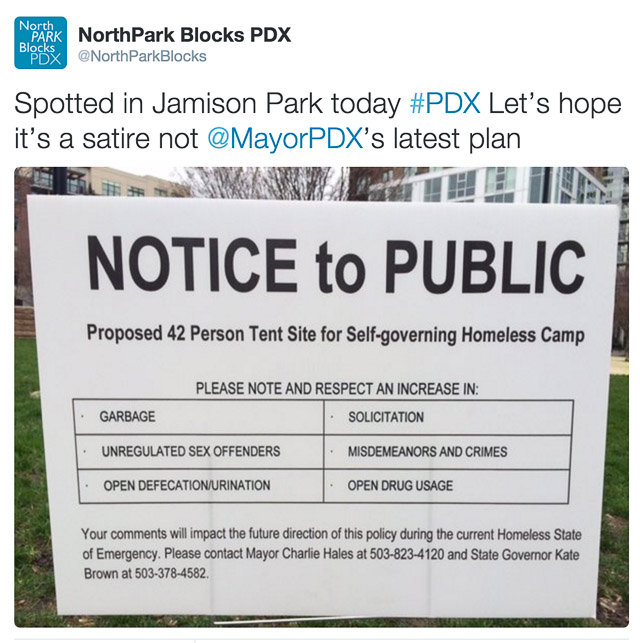 We first saw this prank sign in Jameson Park last week. Turns out it wasn't far off message from Mayor Hales' top-down experiment in homeless camps.
"There are just certain times when the city, faced with an emergency, … has to just buckle down, put their heads down, create something and just try it."  ~ Josh Alpert, Chief of Staff to Mayor Hales. KGW
No, Mr. Alpert is not talking about a unexpected natural disaster. Portland homelessness is a chronic problem. And the city's inability to insure safe and livable streets has been in the news at least since our blog embarrassed City Hall last summer with park porn photos.
We attended yesterday's City Council public work session to hear about Portland's new four-point plan to deal with homelessness in Portland (photo below – that's right, Housing Commissioner Dan Saltzman was not in attendance).
The session featured testimony from Portland Police, a few city officials and homeless advocates. No opportunity for votes, public comment or input from neighborhood groups or businesses that will be impacted. As Mr. Alpert said, "… just buckle down, create something and then go try it."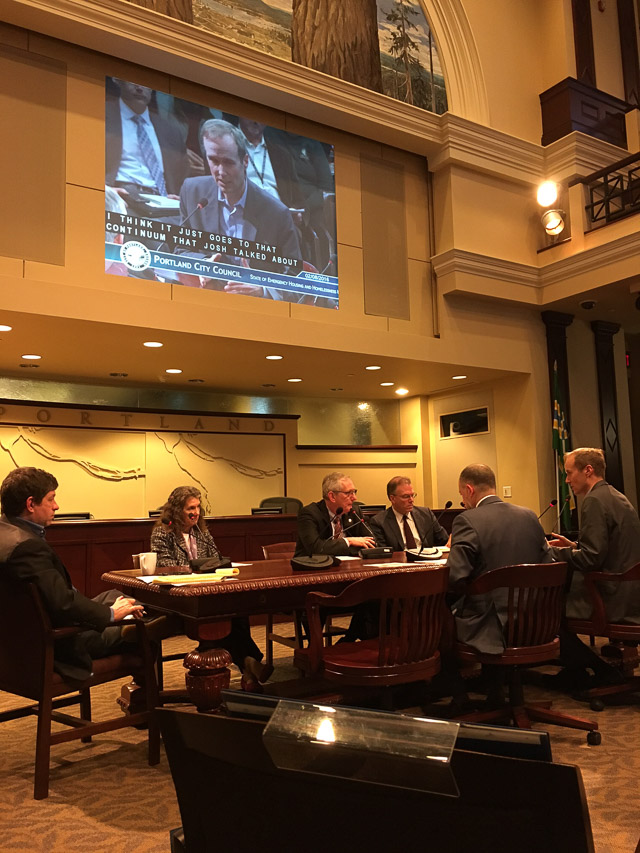 The four point plan looks something like this – What could possibly go wrong?
1. Tents
Overnight sleeping on city sidewalks will be allowed, provided that homeless Portlanders use only a sleeping bag and tarp, do not block the sidewalk, and do not exceed six sleepers in one location. Tents are not allowed on sidewalks.
But tents will be allowed from 9 p.m. to 7 a.m. in certain locations, such as city-owned property that is not a sidewalk. The city plans to release examples of property where overnight-only camping would be allowed.
The guidelines don't apply to parks, although the Portland Parks Bureau generally hasn't gone out of its way to fight off overnight tent camping.
"No one should have a tent up in this city all day," Alpert said.
2. Organized camping system
Alpert hopes to establish several — perhaps 10 — city-sanctioned campsites that must be linked to a nonprofit service provider.
Campers wouldn't necessarily sleep in tents. Instead, the city may order a "couple hundred" disaster-relief pods that homeless Portlanders could sleep in, Alpert said. Later, those pods could be reused by the city in the event of a wide-scale disaster.
The locations of such campsites would be established with the help of neighborhood associations, Alpert."It'll be temporary," Alpert said of the campsites.
3. Organized car/RV system
Similar to the camping system, the city would designate property where homeless Portlanders could legally camp in cars or RVs. Church parking lots are an obvious choice, Alpert said. Any site would require city approval and would need to be affiliated with a nonprofit service provider.
4. More temporary shelter space
Alpert said the city is looking at three or four locations in the hopes of securing more temporary shelter space. He wasn't ready to speculate how many beds could be added to the system or when they'd be ready.
~ From Oregonian This is Charlie Hales' plan for allowing homeless camping in Portland (Feb 8, 2016)