The City of Portland is launching a e-scooter share pilot and may permit scooter companies to operate as early as Monday, July 23. PBOT will kick off a 120 day electric scooter share pilot with up to 2,500 scooters this summer. The pilot will test whether scooter share has a role in meeting City transportation and equity goals.

The city has been planning this scooter pilot for several months and we believe have been very thoughtful in their approach to testing out this new form of transportation in the Portland area. Scooter share is an emergent business; it has generated a lot of ridership and concerns. The biggest concern is sidewalk riding that reduces pedestrian safety and comfort. Riding scooters on sidewalk is illegal in Oregon, and riding in Parks is prohibited by City code. The legal place to ride scooters is in bikeways or the roadway.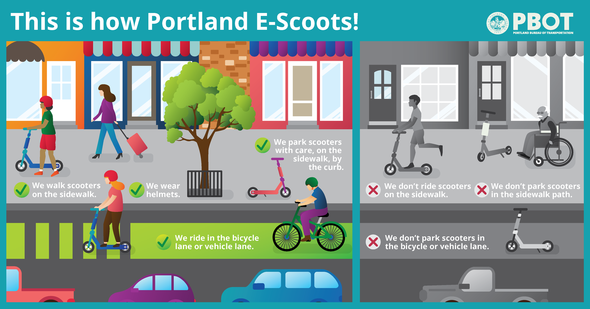 For more info see PBOT's FAQs that explain to how the scooters would operate in Portland as well as some of the possible concerns.
If there are issues that you see with scooters either being used in the wrong manner or being parked in the wrong place you may contact e-scooter@portlandoregon.gov.