Mondo Croquet World Championships
July 30, 2023
Noon-5PM | Free
More info: mondocroquet.com
North Park Blocks
NW Park Ave & Everett
From the Oregonian: Mondo Croquet Takes over North Park Blocks
Well m'Lords and Ladies and all the rest of you lot. It's time for the 26th annual World Championships and Mad Hatter Picnic!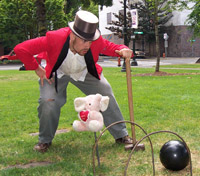 What:
Bring a bowling ball and a sledgehammer. Don't worry if you don't have, we've got plenty of extras to loan out
You'll enjoy yourself more if you're dressed appropriately in lawn whites, or Mad Hatter gear, or simply appropriately inappropriate. Peruse some of our photos for ideas.
Bring along something to share for the picnic and something cold to drink.
…and you might want a chair.
It's a smashing time. Tell your friends! Taunt your enemies!