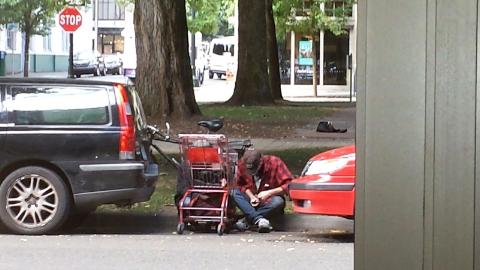 Dear Mayor,
Thank you for your walk in the North Park Blocks initiated by the Emerson School this morning. I would like to share with you the events of my day subsequent to your walk.
By noon:
I had to call Clean & Safe to remove shit that someone smeared on one of our office entryway doors. Our offices face the North Park Blocks.
I watched two guys shoot up sitting on the curb on the park block at Flanders & 8th, took photos (on guy above), called the police immediately and gave Portland Police dispatch complete descriptions of what they were wearing and the fact they have a small red grocery cart and a bike. No one showed up nor has the police dept. called me back. And yes, I told Dispatch I had photos.
Two of my employees watched a guy pull down his pants and take a dump in the park (basketball and bocce ball court block) between Flanders and Glisan.It is my understanding that you intend to walk the Park Blocks again in October. I would encourage you to time your walk later in the morning as illegal activities ramp up during the morning. Your walk this morning at 8:00 a.m. was too early for many of the daily illegal activities to start.