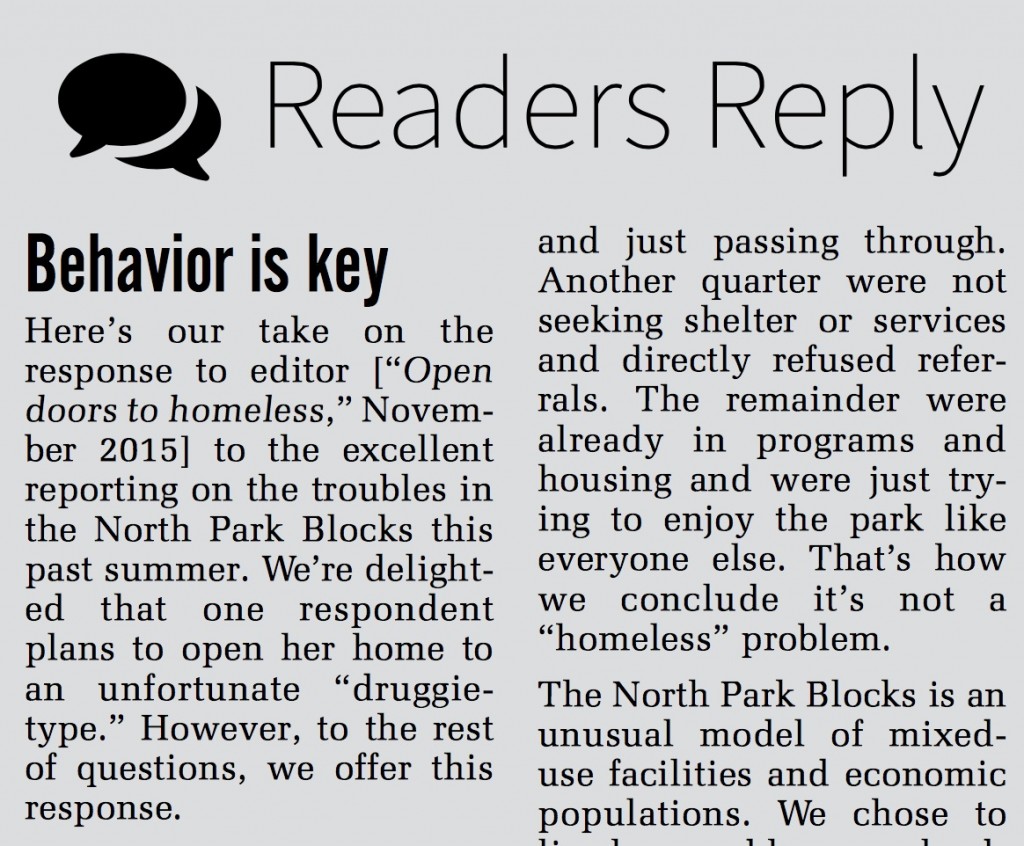 Northwest Examiner Letter to the Editor
December 2015 pdf
We're delighted that one respondent plans to open her home to an unfortunate "druggie-type." However, to the rest of questions, we offer this response. November 2015 pdf
The "rubric" we are using is the survey of over 150 NPB visitors this summer conducted by police department community service officers. More than half stated they were from out of town just passing through. Another quarter were not seeking shelter or services and directly refused referrals. The remainder were already in programs and housing and were just trying to enjoy the park like everyone else. That's how we conclude it's not a "homeless" problem.
The NPB is an unusual model of mixed use facilities and economic populations. We chose to live here and have applauded every new helping initiative. Witness the Bud Clark Center, the CCC Recovery Center, new Transition Projects offices and nearby, the new Blanchet House. Until this past summer the park was used peacefully by a range of constituencies, not the least of which is the contingent of transitionally housed persons honestly seeking services.
Help the homeless? We take the lead every day by living and doing business here, providing some community stability to at least a thousand fellow citizens trying to rebuild their lives. Among our organizers are people involved with felons transitioning into the work force, therapists, non-profit staff, and board members for local neighborhood groups. We care deeply about everyone in our neighborhood. Our chief concern is about behavior, not housing status. No one benefits from the unprecedented increase of crime and lawlessness, perpetrated by transient people preying upon the vulnerable among us while tearing up the fabric of a part of the city that truly works.
We all agree solutions are needed. That's a no-brainer. But what are they specifically? Better to expend energy on finding them than serving up smug ad hominem attacks and innuendo.
~Jean and Mic Fleming
NW Flanders