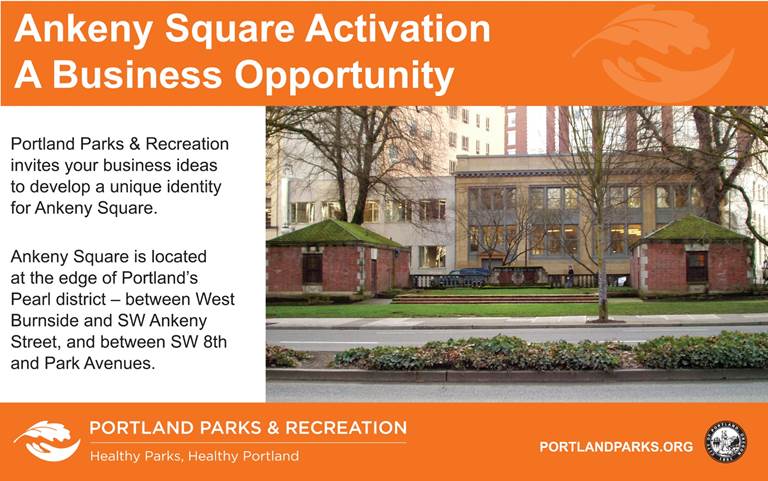 We're excited to hear that Portland Parks & Recreation is soliciting proposal for Ankeny Square. Can't beat the rent: $1/ year.
Ankeny Square is located between West Burnside and SW Ankeny, and between SW 8th Ave and SW Park Ave on the edge of the Pearl District in downtown Portland. This half-block actually sits at the southern end of Portland's historic North Park Blocks.
Info meeting at Ankeny Square on Friday, April 8th at 1PM for Ankeny Square Activation: A Business Opportunity! PP&R staff will be available to answer your questions about this process at the optional preproposal meet on April 8th. If you are unable to attend, but have some questions, please email Trang Lam at Trang.Lam@PortlandOregon.Gov
All submittals are due on Wednesday, April 20 at 4PM.
Portland Parks & Recreation (PP&R) invites interest from individuals, for-profit and non-profit organizations and businesses to propose business ideas and/or programing activities that will support activation at and provide a unique identity to Ankeny Square, part of the North Park Blocks. Ankeny Square is between SW Ankeny and W Burnside Streets, as attached in Exhibit A. PP&R recognizes that an effective public-private agreement has the potential to not only generate revenue but also positively enhance the experience of park users, businesses and residents surrounding Ankeny Square as well as visitor experience to The North Park Block as a whole.
This Request For Interest (RFI) is encouraging and creating the competitive environment for new agreement(s) to be created. This RFI is designed to give all who may be interested an opportunity to suggest public-private partnerships, including those for permits or lease agreements depending on the nature of the response.
More info here