A lesson for Portland?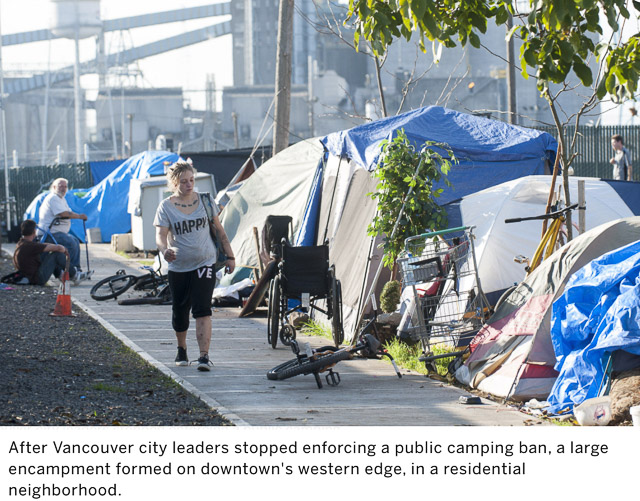 Excerpt from Oregonian: Our Homeless Crisis: Vancouver Allows Homeless Camping, With Ugly Unintended Results By Anna Griffin Nov 7, 2015
A surprising thing happened when Vancouver leaders decided earlier this fall to lift the citywide ban on public camping:
Chaos ensued.
In just a few weeks, a residential neighborhood a 10-minute walk from the heart of downtown became host to a homeless camp that grew to 150 people. Tents lined parking strips, and sleeping bags, shopping carts, mattresses, coolers, garbage, luggage and bike frames collected on street corners. Armed volunteers showed up to keep the peace.
"As the homeless population grew in Vancouver, we'd been hearing lots of concerns about trash in the neighborhood. It would be so great to have complaints about trash now," said Amy Reynolds, director of programs for the nonprofit that runs Share House, the shelter around which the camp formed. "Now what we're hearing is, 'Somebody is defecating in my yard. People are undressing outside my house. People are having domestic disputes, getting in screaming matches and physical fights, next to my parked car.'
"It doesn't seem like it's working for the people in the tents. It's not working for neighbors. It's not working for businesses. It's not working for anyone."
It also wasn't what anyone expected. City leaders thought allowing public camping at night was a smart, quick response to signs that federal officials plan to crack down on communities – such as Portland and most of its suburbs — that criminalize homelessness. Advocates heralded it as a step toward new understanding and a more humane, constructive approach.
Instead, they all learned a valuable lesson: Without planning and forethought, lifting a camping ban can do more harm than good.