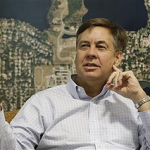 Dr. Bruce Stephenson is dedicated to the art of city planning. A Rollins College Environmental Studies professor, his research and teaching reveal how history informs the intersection of regional planning, sustainability, and urbanism.
He started studying the North Park Blocks in early June as part of a project to document the livability of the Pearl District. He used a systematic approach to assess public life by counting users and categorizing uses in the North Park Blocks in four activities
Sitting on Benches
Walking through the Park Blocks (along north / south  axis to experience the park, rather than along east / west axis to cut through park)
Hanging Out
Possessing Camping Gear
He also counted individuals playing basketball and bocci, and listed the number of children using playground equipment and the number of adults supervising them. His counts were made at the lunch hour (12 pm-1:30 pm) and the early evening (5:00 pm to 6:30 pm), and he also recorded the temperature.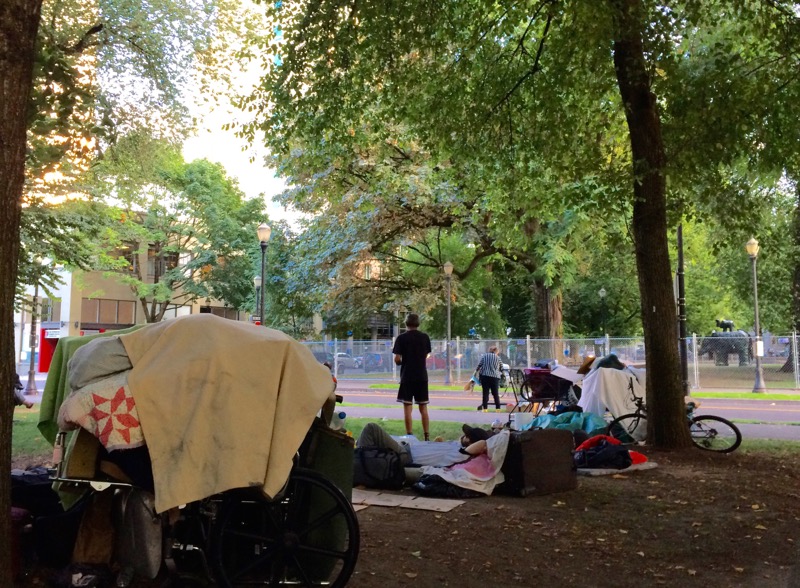 His findings support the claims made by the North Park Blocks group regarding the behavior of park visitors. Dr Stephenson's data shows the summer users with camping gear intensified, increasing by 29 percent from July 10 to August 30. The block between Glisan and Hoyt experienced no change, while the remaining blocks had increases that ranged from 20 to 100 percent. The blocks between Burnside and Couch, and Flanders and Davis Everett and Flanders had highest aggregate numbers, averaging nearly 13 users with camping gear.
He writes:
In sections where campers congregate, extremes tend to be the norm: loud voices, drama, and expletives.  Homelessness is not a crime, but city parks were not intended to shelter the indigent. Ideally, parks should function like a college campus, environments to better ourselves, attune our senses to nature, and engage in civility. … The North Park Blocks illustrate the issues a progressive city with a welcoming public realm encounter.  The solution to homelessness belies a single policy; it requires a civic investment that demands time, money, and resources.  In return, Portland can elevate its public life and public spaces—a manifest sign of a civilized people.
For Dr Stephenson full analysis, see his blog.
His Oct 6th editorial in the Oregonian.