Here's the latest report from Jackie Labrecque, KATU News Published: Aug 29, 2015  Aug 25th KATU report here
PORTLAND, Ore. — Parents whose kids attend the Emerson School in North Park Blocks are joining in the chorus of concerned voices for all the crime happening there: People camping out, doing drugs, and having sex all in a school zone. And the area is home to Art in the Pearl, a huge art festival over Labor Day weekend.
It was a reunion after summer vacation on the playground outside the Emerson School. The annual school picnic means school is about to begin.
"This year is decidedly different than any other year," said Principal Tara O'Neil who had gloves on, and was carrying a sharps container as we talked with her. "I'm walking around making sure there's no needles on the playground or in the grass around the park."
Emerson is right along the North Park Blocks in the Pearl District.
"Just the numbers of street campers of people who are out in the park sleeping, or living all day long — it's ballooned, it's more than doubled than from what I can see out our window," said O'Neil.
The kids have noticed, too. Their parents told them to share.
"It's kind of crazy how many people are around, and it seems kind of unsafe," said Max Pettit, who is in middle school, and graduated from Emerson two years ago.
"I see some fighting, getting arrested, it's a very big issue," said Enzo Ungar-Gutierrez.
"We've seen people shooting up, people having sex, we've seen people peeing, and the other thing in our doorways," said Jean Fleming, who lives near the park.
Neighbors collectively say they do not feel safe.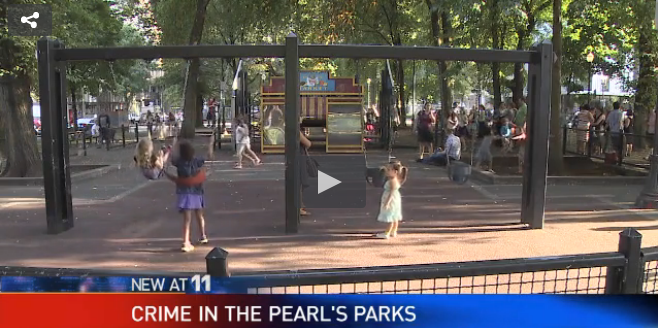 "This is a crime, nuisance, and quality of life issue. This is not a homeless issue," said Fleming's husband, Mic Fleming. "This is all new people, this is all new activity, this is a level we have never seen before."
No one at City Hall would talk on camera, but we learned Portland park rangers are increasing visits at the park as frequently as possible, including an extra evening patrol. Over Labor Day weekend, when vendors have permits to set up shop for Art in the Pearl, police officers will work with park rangers to move the campers out.
Parents know that is just a short-term solution.
"We have a lot of people who can't afford a roof over their head, or drug treatment, or good mental health counseling. I believe it's really indicative of a much larger problem," said an Emerson parent.