KATU-TV's Jackie Labrecque reports on the break down of the North Park Blocks – drugs, public sex, off-leash dog attacks.
Note: Aug 25th – In an attempt to restore order to the North Park Blocks, the city began to cordon off the park with barbwire-topped chainlink fencing. More
KATU-TV ~ PORTLAND, Ore. — Neighbors in North Park Blocks have had enough of people using drugs, camping out for days, and even having sex in the middle of a public park in broad daylight.
The area runs along the south part of the Pearl District, and neighbors are begging city leaders to do something about it.
"Just in the past couple of months, the influx of homeless has been crazy," said Amy Mullen, who takes her son to the park regularly around the city. It is his favorite, but she would rather avoid it.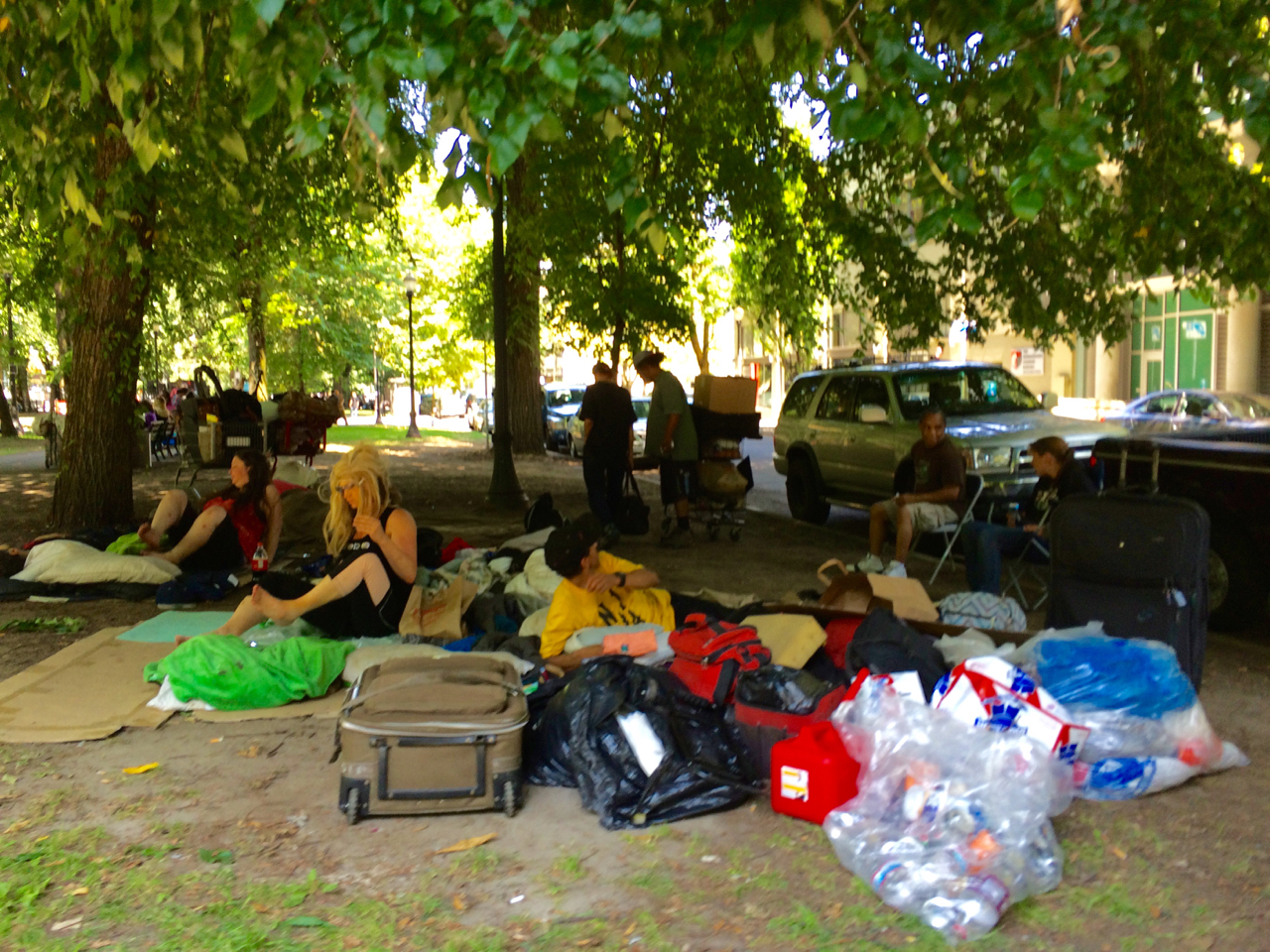 "People are shooting up, just out in the open. People are having sex, people are drinking. People are camping, they're littering," said Tami French, who lives right along the park.
French is fed up, and to make matters worse, her dog was attacked Saturday by another dog.
"It was the most horrifying experience. I thought he was going to kill my dog. I could not get this dog off of Yogi."
French filed a report with Multnomah County Animal Services, and snapped a photo they asked us to include in our video report. They hope it will help them identify the owner who took off. Neighbors say the man hangs around the park a lot and the dog is rarely on a leash.
"We stand at that corner and look to see, Okay, where is the safest place to walk our dogs because there's illegal activity occurring all the time in the park," French explained.
Neighbors are posting each crime on their website, and are continuously calling on city leaders to do something. Police say they are aware of the pictures neighbors are posting of people having sex and shooting up and are addressing the problem with regular patrols.
While out talking with neighbors, the KATU crew ran into Bruce Stephenson who studies city planning.
"I'm trying to figure out how the park blocks are used," Stephenson explained.
The professor from Florida is writing a book about the Pearl District. Each day he observes the North Park Blocks.
"What I've seen over the last two months is an increase of people with camping gear in the park blocks," he said.
The very spaces moms would love to enjoy again with their kids.
"It's understandable, it's an unfortunate situation," Mullen said. "But it isn't fair. We're a little nervous having a small child here."
"Definitely, I would like to feel safe taking my kids to the neighborhood park," said Jennifer Vesbit, who was at the park with Mullen.