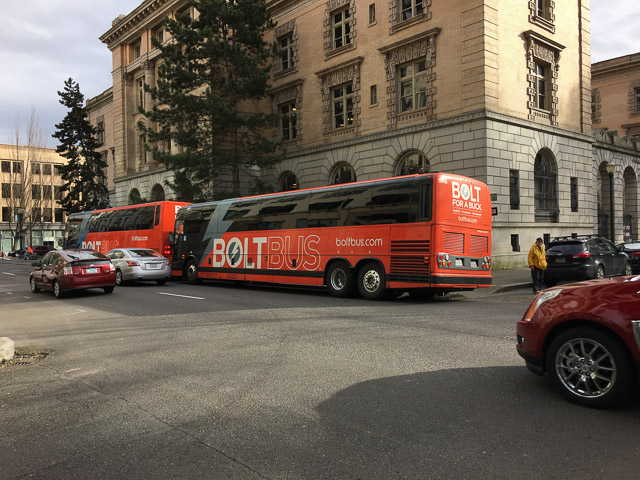 Dear Mayor Hales and City Commissioners,
I know that some other residents of my building (The North Park Lofts at 300 NW 8th Ave.) have written complaining about the Bolt Bus "stop" (read: depot) that has been moved from SW Salmon St. to NW Everett St. at 8th Ave.  I won't add to the litany of complaints but suffice it to say that the noise pollution, traffic congestion, illegal parking, litter, etc. from this has had a materially negative impact on the livability of our homes.  And most likely the property values as well.
I met with Joe Darden, Senior Operations Manager of Bolt Bus, yesterday to get their side of the story and to share our concerns with him.  I met him at the Greyhound bus terminal on NW 6th Ave. and it was evident immediately why he would want to use a city street as a depot rather than the modern facility they own; a facility with seating, bathrooms, concessions, garbage receptacles, etc. that was completely deserted and in lockdown at 2pm.  Outside were probably 25-30 presumably homeless people who had taken over the sidewalk and mall surrounding the terminal.  I am a 6'1", 195lb. man and it was very uncomfortable for me to walk the length of the terminal.  I was twice asked if I was "looking" and one man glared and spit at me.  I cannot imagine a woman, an elderly person, a family, or anyone really who would feel safe going near the terminal.
Joe is a very reasonable man who was sympathetic to our concerns.  He agreed to implement a no-idling policy which, although less than 24 hours in effect, has already made a big difference in the noise.  I didn't even bother asking him the question why Bolt would use a city street for a depot, with all the attendant issues that creates, because it was painfully obvious that the terminal has been rendered virtually unusable.  His frustration with the situation was palpable, and as someone who endured the similar and horrible situation on the North Park Blocks last summer, I shared his frustration.
When will this City Council do something concrete and meaningful about this?  This is not a Bolt Bus problem, it's a city-wide livability problem.  The "temporary" moratorium on enforcing the no-camping ordinance is only going to make matters worse. Perhaps we could take a "temporary" time-out from creating bike lanes, couplets, and extending the Streetcar and Max lines to seriously address this.  If the city's scarce financial resources could be redirected to create one or two permanent camps/shelters with concentrated services and drop-off/triage centers for the police, then maybe the city could find the spine to enforce our laws and make the city inhabitable for tax-paying residents.  The PBA and downtown business owners would no doubt enthusiastically support this and possibly contribute financially.  Even groups like Mercy Corps and Medical Teams International might be willing to offer help in addressing what amounts to a humanitarian crisis in their own backyard.
I know that homelessness is not a crime, and my heart goes out to those who are in that condition through no fault of their own, but what has happened to the once-fair city I grew up in and have lived in for nearly 60 years is a crime.  Doing nothing is not compassion and only enables, nay exacerbates, a tragic problem for all of us.  Thank you for listening and I look forward to your response.
Eric Stromquist
North Park Lofts