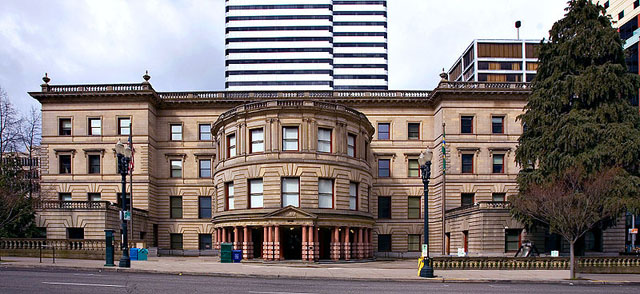 One of the biggest questions we run into is "why isn't law enforcement enforcing the law". This is a great question but, also a complicated one. Herein lies the conundrum of law and policy. The State of Oregon's legislature writes state laws. Local city government officials that "we" vote for and put into office set forth policy. Sometimes the law and policy collide when city officials take it upon themselves to set policy which overrides the law.
An example of this can be seen with state law prohibiting smoking in public places which took effect July 1, 2015. While the state law is pretty clear Portland City Council deemed the law unenforceable in their opinion and Amanda Fritz was quoted to say 'peer pressure,' not police, will enforce Portland policy. Therefore you will not see a reduction or impact whatsoever on smoking of any kind in public parks nor around play grounds like the one outside of Emerson School, nor will you see a reduction in the cigarette butts left behind.
Similar situations of policy trumping law would be site lie and inner city camping which are both illegal under State of Oregon Law. This particular issue was addressed in the Portland Tribune this week. City Hall has failed to give clear direction to police on what they can or cannot do.
"Assistant Police Chief Bob Day says he has made it clear to officers, for instance, that tents on public property should not be allowed. "We've talked about that on multiple occasions," he says. However in recent discussions with Chief Day – he said "we can and should report illegal camping. That said, the police have to jump through several hoops to get people to move along – it may take 24 – 48 hours. And with understaffing this is not huge priority, but it can be done.
Therefore squeaky wheel gets the grease." So, let's get squeaking by calling non-emergency police to remove people from side walk blockage and from door ways. Tents, forts, sleeping bags are all illegal.
Additionally here are other state laws that we as a tax paying citizen have the right to demand be enforced:
1. Drug Free (School) Zones Under Oregon law. Under ORS 475.904 it is a Class A felony "for any person to manufacture or deliver a schedule I, II or III controlled substance within 1,000 feet of the real property comprising a public or private elementary, secondary or career school attended primarily by minors."
All that has to be shown to obtain a conviction is that the person had more drugs on them then for personal use. That is enough to show an "intent to deliver." State v. Rodriguez-Barrera, 213 Or. App. 56, 60, 159 P.3d 1201, 1203 (2007) ("possession of a controlled substance in a quantity that is inconsistent with personal use, when accompanied by possession of materials commonly associated with delivery, is sufficient to establish possession with intent to deliver the contr olled substance.")
2. Dog attack – Oregon law. ORS 609.090 allows the police to impound a dog if it is a "pubic nuisance," which includes a dog that is deemed to be a "potentially dangerous dog" further defined as a dog that: . . . "Without provocation and while not on premises from which the keeper may lawfully exclude others, inflicts physical injury on . . . a domestic animal . . . ." ORS 609.035(5).
3. Illegal camping. There are no Oregon or federal cases stating that Portland's "no camping" ordinance is unconstitutional. To the contrary, in Anderson v. City of Portland, No. CIV. 08-1447-AA, 2011 WL 6130598, at *4 (D. Or. Dec. 7, 2011), federal Judge Anna Brown rejected a host of constitutional arguments against the ordinance
Recently, Multnomah County Circuit Court Judge Stephen Bushong found the same ordinance to be lawful and constitutional.
This summer our voices were heard by city hall and they took some action. The cooler weather has moved in and we are seeing less drifters and traveling gangs. But, this is the time when we need to push and make noise. If we don't we run the risk of having another summer next year whereby the North Park Blocks are over-run and occupied by a street dwelling criminal element bent on affecting the quality of life in and around the park.
The only way that we will impact lasting change is by keeping our voices be heard. If we see any crime being committed it is our obligation as good neighbors to report it. If you are confused, which many are, by who to call when feel free to download the North Park Blocks Resource Sheet here  or consider the following:
If you witness or are subject to illegal behavior, please do not confront the perpetrator(s). PLEASE REPORT IT.
Crimes in progress or life threatening emergency: dial 911
Non-emergency (suspicious person/activity): Portland Police 503 823.3333
Park rule violations/drugs/alcohol/off leash dog/litter: Parks Ranger Dispatch 503 823.1637
Park maintenance issues: 503 823.4824
Illegally parked vehicles: Parking Patrol 503 823.5195
Excessive Noise Noise Control Office 503 823.7350
City/County Information and Referrals: 503 823.2781
Additionally, sign up to testify at the City Council meetings. Simply email Karla Moore via Karla.Moore-Love@portlandoregon.gov and let her know when you would like to provide the public testimony. City Council meetings are held on Wednesdays. Communications are the first item on the official agenda and they start at 9:30 a.m. (You may also fax at 503-823-4571 or call 503-823-4086 for more information).