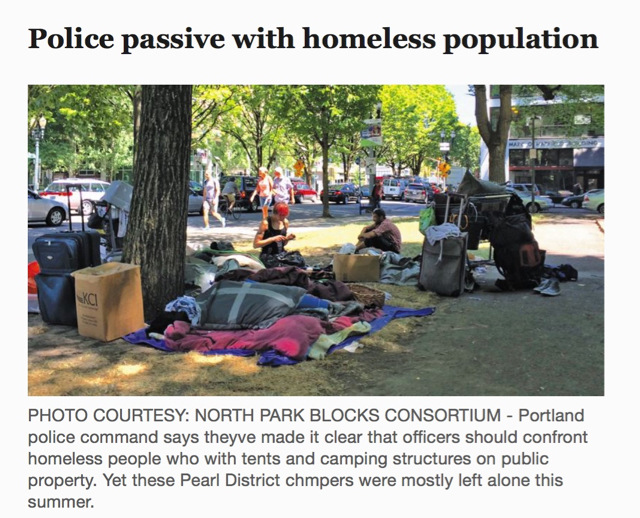 Reposted from:
Police Passive with Homeless Population
Portland Tribune October 2015
Written by Peter Korn
Hayley Purdy can't figure out why police officers bike, drive and walk by the social chaos she lives with on the North Park Blocks and do virtually nothing.
Throughout the summer Purdy and her neighbors documented the increasing disorder in their part of downtown. They watched the proliferation of illegal campsites and the garbage piling up and they've had a few angry confrontations with squatters over broad daylight drug dealing.
Daryl Turner says he knows why. The Portland Police union chief says street officers have been walking by situations involving illegal homeless camping and sidewalk obstruction when in years past they would have taken action. And that's because city officials refuse to provide police with clear direction and support in dealing with the growing number of homeless people who violate city ordinances, according to Turner.
"We have never, ever, by any leadership, been given clear direction on how to deal with the homeless population on sidewalks and in parks," Turner says. "Without clear direction, cops don't know what the city wants." Continue reading "Portland Tribune: Police Passive with Homeless Population"