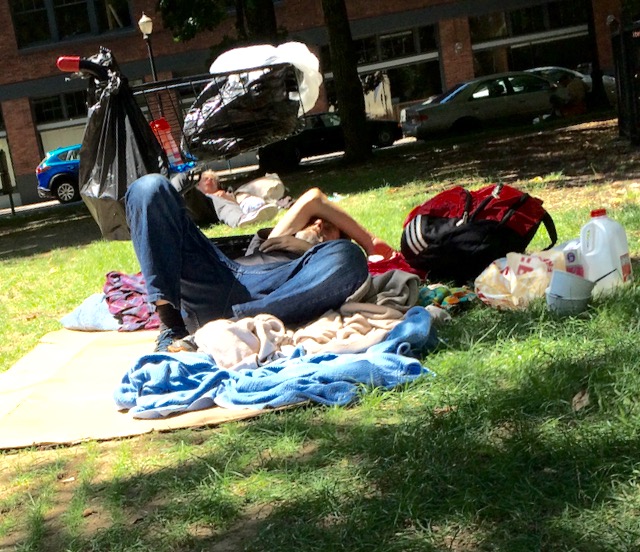 Reprinted from ABC news Gillian Flaccus, AP — Sep 7, 2016 Link
There have always been homeless people in Portland, but last summer Michelle Cardinal noticed a change outside her office doors.
Almost overnight, it seemed, tents popped up in the park that runs like a green carpet past the offices of her national advertising business. She saw assaults, drug deals and prostitution. Every morning, she said, she cleaned human feces off the doorstep and picked up used needles.
"It started in June and by July it was full-blown. The park was mobbed," she said. "We've got a problem here and the question is how we're going to deal with it."
The city is booming, and the homeless are more visible than ever before. Skyrocketing rents, cripplingly low vacancy rates and a severe shortage of affordable housing are forcing Portland to re-examine its live-and-let-live attitude in a place where residents have long been tolerant of everything but intolerance.
And in a city where the mayor says "unhoused" instead of homeless and where tent camps have names like Dignity Village and Right 2 Dream Too instead of Skid Row and The Jungle, residents are wondering if Portland needs to rethink its strategy as a permanent solution seems ever-more elusive.
"The city doesn't have a coherent approach to … really enforcing any type of rules about where people can camp," said Chris Trejbal, who lives near a homeless camp called Hazelnut Grove.
"It's been a disaster. There's no leadership."
The issue peaked this year when Portland declared a homeless state of emergency and Mayor Charlie Hales made it legal to sleep on city streets.
At the same time, Portland welcomed 1,000 new residents a month and the average rent has increased about $100 a month. The metropolitan area needs 24,000 more affordable housing units; vacancy rates are some of the lowest in the nation.
"It's white hot, people want to move here and live here, as well they should. It's an amazing city . but our zoning and our planning process is really behind the curve in terms of providing flexible and affordable living arrangements," said Mayor-Elect Ted Wheeler. "It has not caught up with the new reality."
Part of that reality is the nearly 1,900 unsheltered people who camp from Portland's downtown core to its rapidly gentrifying neighborhoods to the forested areas along the urban fringe. A one-night count last year found the overall number of homeless people hasn't increased significantly, but the number of chronically homeless has risen steadily to make up about half of the total population.
Portland has earmarked $250 million for affordable housing and has a $250 million housing bond on the November ballot.
The city has also joined forces with Multnomah County to tackle the crisis head-on with $43 million in funding; leaders in a new coalition want to cut homelessness by half in three years.
Yet there is a potent belief that the city isn't doing enough because homelessness suddenly seems everywhere.
There aren't enough short-term beds while Portland works at long-term solutions. When one camp is shut down, another pops up.
After letting up to 500 homeless people live for months along a 21-mile bike trail in southeast Portland, the city cracked down and last week uprooted a network of tents, some of them stuffed with armchairs and couches.
Neighbor LaDawna Booze had called police repeatedly to report drug use, theft and excessive noise there.
"I haven't been out in my own yard in a few years. I feel like I'm watched everywhere," she said. "It's changed my life."
Booze isn't alone. The issue was a constant in this spring's mayoral campaign and it dominates the local news. Since June, 5,000 people have called a hotline to complain about homeless camps, according to The Oregonian/OregonLive.
Hales, who dropped out of the race for re-election, has struggled to find a common ground between upset business leaders and homeowners and homeless advocates, who feel the city is shuttling the homeless around with no plan.
He was sued after announcing his "safe sleep" policy, but the city was sued again last month after commissioners voted to proceed with plans to turn a vacant industrial warehouse into a 400-bed homeless shelter.
Suggestions to house the unsheltered in a mothballed jail have been slammed for symbolically criminalizing homelessness but a state land use board killed a plan last week to move a city-sanctioned tent village to industrial land.
"You're damned if you do and you're damned if you don't so you'd better 'do,' because no good deed goes unpunished when it comes to homelessness," said Hales, who ended the 'safe sleep' policy after six months.
Those on the streets are craving answer as the cold and rain of a Portland winter approach.
Deitra Schmer moved into an RV when the city swept the Springwater Corridor. She has nowhere else to go and says she couldn't keep her job as a certified nursing assistant because she had no stability.
"You can't move every 10 days or every three days and keep your job. It just doesn't work," she said. "Not to have to worry about where I'm going to lay my head — that's my biggest issue."