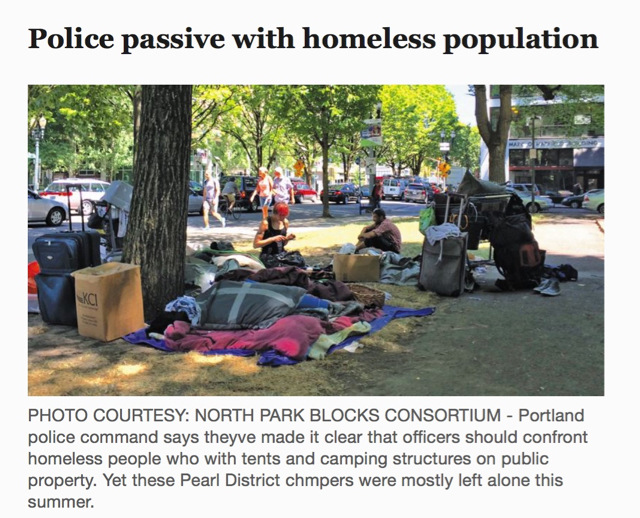 Reposted from:
Police Passive with Homeless Population
Portland Tribune October 2015
Written by Peter Korn
Hayley Purdy can't figure out why police officers bike, drive and walk by the social chaos she lives with on the North Park Blocks and do virtually nothing.
Throughout the summer Purdy and her neighbors documented the increasing disorder in their part of downtown. They watched the proliferation of illegal campsites and the garbage piling up and they've had a few angry confrontations with squatters over broad daylight drug dealing.
Daryl Turner says he knows why. The Portland Police union chief says street officers have been walking by situations involving illegal homeless camping and sidewalk obstruction when in years past they would have taken action. And that's because city officials refuse to provide police with clear direction and support in dealing with the growing number of homeless people who violate city ordinances, according to Turner.
"We have never, ever, by any leadership, been given clear direction on how to deal with the homeless population on sidewalks and in parks," Turner says. "Without clear direction, cops don't know what the city wants."
Purdy says she and her neighbors are "furious." And most of their fury, she says, is directed not toward the homeless but toward city officials who aren't making an effort to consistently enforce ordinances and maintain civic order.
"Their presence wasn't even here for most of the summer and when they were here they weren't enforcing anything," Purdy says of the police.
Turner says "something changed" last year when city officials chose to let homeless protesters camp in front of City Hall. Something also changed, he says, with the imposition of new police accountability rules prompted by the city's settlement with the U.S. Department of Justice. The Justice Department sued Portland for misuse of force against citizens suffering mental illness.
Now, Turner says, a police encounter with a homeless squatter who may be illegally camping or blocking a sidewalk can too easily become a major incident. Take a situation where a police officer asks a squatter to move from his or her sidewalk position, Turner says. Most squatters will comply. But when one doesn't, an officer might reach down and pull them up.
Until two years ago, that sort of encounter rarely posed a problem for police, according to Turner. Now, he says, it usually requires the officer to write up a "use of force" report, which will lead to a conversation with a superior in which the officer must justify his or her actions. All of which can take up a good chunk of that officer's day. And if the squatter files a complaint, the process becomes even more time consuming and potentially damaging for the officer, Turner says.
"If I put my hands on you just to stand you up, that's a use of force," Turner says. "Things we used to do and were able to do are now uses of force."
That's not precisely true, says assistant police chief Bob Day. If an officer touches someone just to help the person up, a use of force report does not need to be filed. But if anything resembling a struggle takes place, the report must be made and an interview with a superior officer will follow.
Prior to the DOJ settlement, however, an officer could go as far as taking a person to the ground and not have to file a use of force report, police officials acknowledge.
Police data confirms Turner's view of events. Portland officers take two basic types of action: responding to dispatched calls and self-initiating contacts. A significant percentage of self-initiated contacts involve police responding to nuisance or street-level violations. Over the last half dozen years, self-initiated actions have steadily dropped, while responses to dispatched calls have gradually increased.
That drop in self-initiated activity may also be partially responsible for one of the more positive developments within the police bureau. Portland police use of force has been dropping dramatically — from 455 force incidents in the third quarter of 2008 to a low of 157 in the fourth quarter of 2014.
Day agrees that the decline in self-initiated contacts probably indicates street officers are taking less initiative in dealing with quality of life offenders, especially among the homeless. But he disputes Turner's notion that a lack of direction is responsible.
Day says he has made it clear to officers, for instance, that tents on public property should not be allowed. "We've talked about that on multiple occasions," he says.
Yet throughout this year, tent campers on the North Park Blocks and in areas like the Springwater Corridor for the most part were allowed to remain. And they can still be found throughout the city.
If there are different interpretations over what actions are considered use of force, that needs to be cleared up, says Richard Bennett, a professor of justice in the Department of Law and Criminology at American University in Washington, D.C. Bennett is considered an expert on police behavior.
 He'd have Turner and Day meet and put together a document detailing every conceivable action an officer might be confronted with while trying to roust a homeless person. There could be a distinct line drawn between those actions that would be considered rendering of aid versus those that would be considered use of force. The administration could then make clear which actions they want officers to take and which lines they don't want crossed.
"The more specificity the better," Bennett says.
Nationally, the shooting of Charly Keunang by Los Angeles police in March has changed the thinking of many officers who deal with the homeless, Bennett says.
Keunang, who was unarmed, died after resisting arrest on a sidewalk on which he and others had been camping. Keunang's family has filed a $20 million lawsuit against the Los Angeles police department and the officers involved in the shooting.
"That all of a sudden changes the algorithm," Bennett says. "Here's an officer saying, 'If I get involved in a situation like this and in a split second I'm doing what I judge to be appropriate behavior, and I'm going to be charged as a criminal.' The officer is thinking, 'I'm going to avoid those situations.'"
Day says it might not be possible to craft the type of list that Bennett suggests.
"I hear probably half a dozen times a week, 'We just want clear direction,'" Day says. "The problem is you have 350 officers in uniform patrolling right now and every situation they encounter is unique to that moment in time."
Both Turner and Day say more police officers would help the situation. Day says with Portland's police force undermanned, more officers are taking additional shifts. "If you've worked all night and now we're going to ask you to work from eight in the morning to one in the afternoon, your enthusiasm and willingness to engage in some of these more tedious processes is going to be less," Day says.
Homeless people are confused about the rules too, says Right 2 Dream Too leader Ibrahim Mubarak. One trend that homeless people have been reporting, according to Mubarak, is police giving way to park rangers and private security, including Portland Clean & Safe, which is financed by the Portland Business Alliance.
It was only toward the end of summer, after North Park Blocks business owners and residents organized and met with city officials, that police swept through the area, made arrests, and took away the possessions of homeless campers, "a sneaky way of hurting people with nowhere to go," Mubarak says. Most of the summer, Portland police officers simply told homeless people where they could find shelters or directed them to Right 2 Dream Too.
Until then, Mubarak says, this summer was different. "As long as I've been here I haven't seen that mass of people in the park blocks," he says.
The laissez faire attitude of police toward the homeless even has Mubarak considering a theory that he recognizes as a bit extreme, but that would explain what happened on the North Park Blocks. Maybe, he says, developers and city officials are looking for a bargain.
"In a conspiracy manner I'm thinking they are allowing the houseless community to be around the downtown area so that the Broken Windows theory can take place," Mubarak says. "Property values will go down and when (businesses) leave they'll sweep in and take them for cheap."
The unpredictable policing of the homeless flies in the face of current criminal justice thinking, which is known as the Swift, Certain and Fair approach. Research has shown that quality-of-life offenders especially are less likely to re-offend if they receive consequences that are swift and certain. In fact, research shows that a third component — the severity of punishment — is often less a factor than the predictability.
The proliferation of homeless campsites and sidewalk squatters is no longer simply a downtown area problem, says Sandra McDonough, president of the Portland Business Alliance. The PBA is circulating a petition asking city and county officials to provide more help for the homeless and to enforce existing laws "to ensure our parks, public spaces and sidewalks are safe for everyone."
"The mayor said last week he thought Portland had compassion fatigue," McDonough says. "I think the fatigue was around the inaction people were seeing."
Michelle Cardinal, CEO of the R2C Group, an advertising agency based in the North Park Blocks, helped organize business owners, residents and parents with children at Emerson School, which sits next to the blocks. They prepared a slide show for city officials that shows a variety of offenses, including drug use and dealing in the park blocks. She says she had no choice but to take action.
"There was a brazenness I had never seen before," Cardinal says. "My employees were being harassed and threatened. Nobody was hurt, but I felt we were on the tipping point of something like that happening."
Cardinal says she sympathizes with police officers who allowed the situation to fester until the September sweep.
"When I talked to officers who came down, they showed me what they had to go through in order to get someone to move along," Cardinal says. "Common sense says that over time they would de-escalate their involvement."
Still, in Cardinal's view, allowing wholesale camping in the North Park Blocks led to the threatening atmosphere. And when Portland's summertime travelers return next year, they may well think that the city will allow them to repeat this year's behavior.
"We've always had it in and out of the park blocks and it's always been transient," Cardinal says. "People come and go. What happened this year was an occupation."