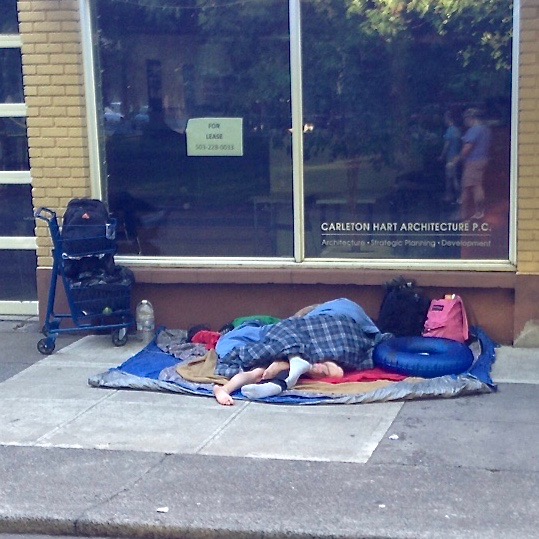 The sad truth is that the down trodden sleep on our streets with no treatment or protection and people are increasing dying. Our current policies are not working. We need more shelter beds and a consistent street policy to eradicate unregulated, unsanitary and unsafe street camping. Terminal One or Wapato – are real impactful solutions – big enough to make a measurable impact, giving people a roof and safe haven for sleep and nourishment. The argument that a large shelter concept would be warehousing homeless is the least of our worries when people are dying on our streets. ~ Michelle Cardinal
From: 88 Homeless People Died on Portland-Area Streets Last Year by Rachel Monahan, Willamette Week, Sept 9, 2016
The number of homeless people who died in Multnomah County rose sharply in 2015—to 88, up from 56 the year before.
That's the highest number of deaths since the county and the Street Roots newspaper began compiling the data in 2011 for a report entitled "Domicile Unknown."
It's may be a first, official indication that the number of homeless Portlanders has risen sharply since the last count in January 2015.
The lack of affordable housing is a contributing factor, says Street Roots executive director Israel Bayer.
"We're not getting people into housing at a quick enough pace to save the lives of people who are elderly and vulnerable," says Bayer. "There are more people on the streets because we're not moving people inside."
Using the same method since 2011, the county has tallied the number of deaths investigated by the medical examiners' office.
In all, 17 homeless women died in 2015, up from four in 2014. The number of African-Americans rose to 10 from seven. The number of homicides rose from one to five. Women died at an average age of 41; men at an average age of 50.
Drugs or alcohol contributed to 44 deaths in 2015, up from 31 in 2014. Deaths related to heroin or other opiates remained relatively flat: 19 in 2014, 22 in 2015.
As in years' past, roughly an equal number of homeless died from April through September and October through March.
Here's a link to the report.